Garden Tips to Transition Through the Fall From Mom Blog Society
The Mom Blog Society has lots of tips on how to transition your garden through fall the fun and sustainable way. They are loving using the dirt on dirt products throughout the whole year:
With the leaves turning from green to fiery red and vibrant orange, and cool, crisp air on its way, it's the perfect time to get your garden ready for the fall. This season, it's easy to maintain sustainability with a new line of natural and organic garden care products from The Dirt On Dirt™- ARBORChar™, AzaSol™, NutriRoot®, Eco-Mite Plus® and Eco-PM®.
"Now that the summer growing season is over, many "GIY'ers" (that's "grow it yourself-ers") are looking for advice on how to transition their gardens and maintain nourishment through the fall," said Kristin Nikodemski, "Dirty Girl Gardener" (and Marketing Manager for Arborjet and The Dirt On Dirt™.) "At The Dirt On Dirt we're offering tips and ideas around what you can do now – like composting weeds, adding mulch, and checking the pH level in the soil – to ensure a healthy garden that survives through the autumn and winter, and thrives next spring."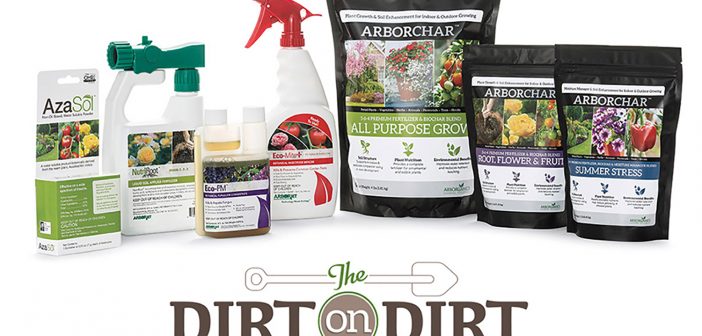 Posted on
November 14, 2016